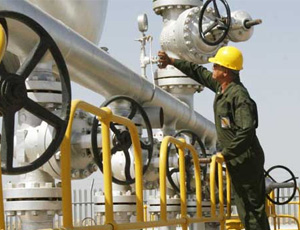 Feb. 23 – China, India and Japan – three of Asia's largest oil consuming nations – are planning to reduce imports of crude oil from Iran by at least 10 percent in response to mounting pressure from the United States and its Western allies to impose sanctions on the Middle Eastern state. The three countries together purchase nearly half of Iran's crude oil exports.
The United States and the European Union announced plans earlier this year to impose punitive sanctions on Iran in an effort to force the Iranian government to cease the development of its nuclear program – which they say is aimed at producing a nuclear weapon despite Tehran's claims that its nuclear program is purely for civilian purposes.
The EU ban on Iranian oil imports is due to come into full effect on July 1 this year. However Iran, which is the largest producer in the Organization of the Petroleum Exporting Countries (OPEC) after Saudi Arabia, has responded by taking preemptive action – banning oil sales to Britain and France earlier this month.
China is the world's largest importer of Iranian oil, accounting for 22 percent, or 540,000 barrels per day, of all Iranian exports in 2011 according to estimates by the U.S. Department of Energy. Japan was the second largest buyer, consuming 14 percent (341,000 barrels per day), while India was the third largest, accounting for 13 percent (328,000 barrels per day).
The United States has said it will punish companies that facilitate financial transactions with Iran's Central Bank, which clears oil deals, by excluding them from the U.S. market. Such measures have already been taken on Chinese oil firm Zu Hai Zhen Rong, which was thought by some to be largely symbolic as this company does little business with Iran. However, the move underpinned Washington's resolve on the issue.
Several countries are currently in the process of negotiating with the United States on an individual basis to determine the exact conditions of possible trade embargoes with Iran.
Among them, Japan is in a particularly delicate predicament. Following the devastating tsunami last year, the Japanese government was forced to close down many of the country's nuclear power stations, dramatically increasing its reliance on imported oil. In order to avoid its financial institutions being shut out of the crucial U.S. market, Tokyo will have to reduce oil imports from Iran to levels considered satisfactory to officials in Washington.
Tokyo is currently in the process of finishing up negotiations with Washington regarding how much Japan has to cut its Iranian oil imports in order to win waivers from the U.S. sanction. Japan's Yomiuri Newspaper, citing unidentified sources, has said that Japan and the United States are likely to settle on an 11 percent cut.
On the Indian side, the government has said it will not abide by U.S. unilateral sanctions, but is pushing its refineries to cut imports by at least 10 percent, two undisclosed sources told Reuters in a recent report. Meanwhile, China Unipec, the trading arm of Sinopec Corp., is likely to cut imports by 10 percent to 20 percent under 2012 supply contracts, according to a Chinese industry executive with knowledge of the situation.
David Fyfe, head of the International Energy Agency's oil industry and markets division, thinks the cut could even exceed 10 percent.
"The numbers I've been getting for the revised Unipec deal suggest much lower volumes [than 2011]," he said. "What they have signed for so far is less than last year."
He also suggested the reduction could be a means for China to leverage bargaining power in future deals, with China "waiting for more advantageous spot cargoes to become available later in the year."
U.S. financial sanctions imposed since the beginning of this year are already severely disrupting Iran's ability to buy imports and receive payment for its oil exports. Iran has responded to sanctions imposed against its economy with stern defiance.
"We will no more wait to see enemy action against us," Fars news agency quoted Mohammad Hejazi, deputy head of the general staff of the Iranian Armed Forces for Logistic and Industrial Research, as saying in an interview.
He reaffirmed that Iran would "make use of all our means to protect our national interests and hit a retaliatory blow at them whenever we feel that enemies want to endanger our national interests."
Mr Hejazi's comments came as the team from the International Atomic Energy Agency – the UN's nuclear watchdog – was denied access to an Iranian nuclear development site on its recent inspection visit. The meetings in Tehran were aimed at providing an opportunity to defuse allegations of a possible military aspect to the country's nuclear program.
Related Reading
United States Pushes China to Cut Oil Imports from Iran
Indian Refiners Skirt Sanctions, Pay Off Iran Oil Debt
European Union to Cut Aid to 19 Emerging Economies
Will China Inherit Afghanistan's War?