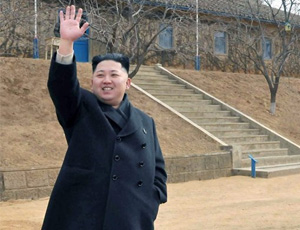 Mar. 2 – North Korea announced on Wednesday its intentions to freeze nuclear weapons tests and uranium enrichment, while allowing UN inspectors to monitor its nuclear facilities. The unexpected development came after diplomatic talks between U.S. and North Korean officials in Beijing last week, and will raise hopes of finding a lasting resolution to the issue of denuclearizing the Korean Peninsula.
The announcement was welcomed by the U.S. government, who called the move "important, if limited," and responded with a pledge to donate 240,000 metric tons of food aid in return for the freeze.
Neighboring powers in the region also greeted the news with optimism. Chinese Foreign Ministry Spokesman Hong Lei said "China is willing to work with relevant parties to continue to push forward the six-party talks process," and the Japanese government said the move could "be seen as progress."
The North Korean regime released a statement in Pyongyang on Wednesday confirming the suspension of its nuclear activities and described its action as being "aimed at building confidence for the improvement of relations," and said talks would continue.
In addition, officials in Pyongyang have agreed to a cessation of long-range missile tests, which have caused tensions in the region to spike in recent years.
However, the Obama Administration has maintained a cautious tone in its response to the developments.
"The United States, I will be quick to add, still has profound concerns," U.S. Secretary of State Hilary Clinton said at a House Appropriations Committee hearing on Wednesday, and the U.S. State Department indicated it wants to see action to match the language of cooperation coming from Pyongyang.
"We've made clear that we're not interested in talks just for the sake and the form of talks," an official said.
The international community has learned from experience that North Korea has no qualms about reneging on its commitments to negotiations concerning its nuclear program. In the past, Pyongyang has played cat and mouse with the five other members of the Six-Party Talks (China, Japan, Russia, the United States and South Korea) – joining then leaving negotiations while accusing other parties of war-mongering. This time around, the language used by North Korea appears to allow for such an escape route again, saying the country would commit to the agreement "as long as talks proceed fruitfully."
Intelligence officials have only estimates of the true extent of North Korea's nuclear weapons capabilities, currently thought to be in the range of six to eight devices. Pyongyang, under the leadership of the recently deceased Kim Jong-il, banned weapons inspectors after failed negotiations and proceeded to test nuclear weapons in 2006 and 2009. The extent of their most recent progress in uranium-enrichment at the Yongbyon plant is still unknown.
The Obama Administration has been watching Kim Jong-il's successor – his son Kim Jong-un – with intense scrutiny, waiting to see if there will be any change in policy from the previous regime.
International security analysts have said that the recent move by the DPRK is not significantly different to previous announcements conveying a spirit of cooperation, but one very positive benefit would be finding out what stage its nuclear program is at.
Some experts say the agreement could indicate the young leader's confidence in his support from North Korea's power structure, including the world's fourth largest military. It is also thought that Kim Jong-un would have been directly involved in authorizing acceptance of the deal, initially offered by the United States in talks in July 2011, which were disrupted by the death of Kim Jong-il.
Commentators also view the deal as a means for Kim Jong-un to demonstrate to his people that he is capable of dealing with the United States and extracting tangible benefits desperately needed by North Koreans – primarily food aid. This will be limited to nutritional supplements rather than rice and grains, which have been sold on for cash by North Korean authorities after previous donations.
The United States has also insisted on strict monitoring of how the aid is distributed, which it says should be focused on women and children. It is no secret that malnutrition is endemic in North Korea; after the famine it suffered in the 1900s, it has continued to suffer from food shortages.
The language coming from both sides appears to show a willingness to make progress in diplomatic relations.
"[The United States] is prepared to take steps to improve our bilateral relationship in the spirit of mutual respect for sovereignty and equality" and to allow cultural, educational and sports exchanges with North Korea, according to the U.S. State Department.
But experienced U.S. officials have made it clear that an initial agreement to cooperate does not signify a complete and comprehensive treaty on nuclear non-proliferation and full integration into the international community. The door has been opened, but to stop it from closing before any real progress can be made, all parties must maintain focus on what is effective and what is relevant.
Related Reading
The China Alternative – North Korea