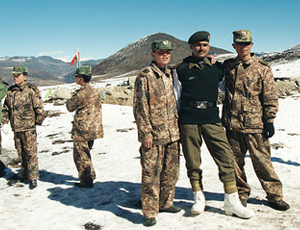 Mar. 7 – Officials from India met with their Chinese counterparts in Beijing earlier this week, successfully conducting the first meeting of the "Working Mechanism for Consultation and Coordination on India-China Border Affairs," which the two countries established in New Delhi earlier this year.
This new working mechanism, headed by high-level officials and diplomats from both sides, aims to set a positive tone in resolving the two countries' long-standing territorial disputes, while also boosting bilateral relations between the world's two largest emerging economies.
The two-day talks, which concluded on Tuesday, "yielded positive progress" and were conducted in a "constructive" and forward-looking atmosphere, according to a Chinese Foreign Ministry press release.
At the meeting's closure, India and China jointly pledged to safeguard peace and tranquility along the Sino-Indian border. Moreover, both countries agreed to call emergency meetings or hold video conferences whenever there are reports of disturbances on the border.
The second meeting of the new mechanism will be hosted in India next year.
"The two delegations agreed on the rules governing the functioning of the mechanism which include convening 1-2 meetings a year and, if required, holding of emergency consultations either through meetings or by telephone/video conferencing," an Indian embassy statement said. "[The delegations] also discussed the possibility of an alternate route for the Kailash Manasarovar Yatra and additional items for border trade at Nathu La Pass in Sikkim."
While it remains to be seen how much progress is made through the new mechanism, such platforms for bilateral dialogue are very much needed as tensions have frequently run high in recent years due to territorial issues. Just a week before the new mechanism meeting in Beijing, tempers flared again as a result of China's objection to Indian Defense Minister A K Antony's visit to Arunachal Pradesh (located along the 2,000 kilometer-long undelineated border) for its statehood celebration. India reacted sharply by stating that Arunachal Pradesh is an integral part of India and that China has "no right" to interfere in India's domestic affairs.
Besides the longstanding border disputes, a group of analysts and policy makers recently published "Non-Alignment 2.0," a report attempting to guide India on its foreign and strategic policy in the 21st Century. The widely-read report warns that the Indian government should keep its distance from China, despite the country's efforts to forge strategic partnerships through trade and bilateral cooperation.
Although optimism may rise with the success of the new mechanism, it still has not translated into any substantial shift in border policy for either country. As a result, the new working mechanism may end up serving as nothing more than a symbol of "goodwill."
As ever, any border resolution between China and India remains elusive, and whether or not India will agree to be China's strategic partner in world politics is still up in the air.
Related Reading