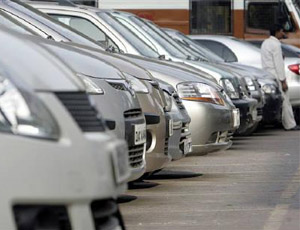 Mar. 15 – IHS Automotive, a leading market research firm in the automobile industry, estimates in a recent report that India will likely overtake Japan as the second largest vehicle market in Asia by 2016. Meanwhile, China will remain Asia's largest auto market with its steady growth in auto sales volume.
The IHS forecast is well supported by statistics released by the Society of Indian Automobile Manufacturers (SIAM) last month. The volume of car sales in India hit 211,402 in February, marking a 13 percent increase over the same period last year and representing the strongest growth since April 2011.
Despite government attempts to temper the number of automobiles in India, demand for automobiles is mounting as the country develops and the economy grows. Car sales in India are estimated to increase from 2.91 million units in 2011 to 4.88 million by 2016, before reaching 6.73 million in 2020, as projected in the IHS report.
However, while the growth of automobile sales seems to be a positive surprise for the sector, experts caution that it might be too early to be optimistic for a sustained recovery of India's automobile industry. The industry experienced an overall lackluster 2011, highlighted by high interest rates and incidents of labor unrest.
According to the Financial Times, the jump in car sales in India last month is a result of fears and concerns over the speculation that the federal government may raise taxes on diesel vehicles in its budget for the next financial year. Moreover, auto sales are greatly affected by the greater economic situation. As GDP growth expectations seem to decrease day by day, it is hard to tell whether this boom in car sales will be sustained through 2016.
Related Reading
Auto Sales Slow Down in China and India
China's Foreign Car Imports Nearly Double in 2010
SOE Alliance in China to Invest Billions in Electric and Hybrid Cars
India's Maruti Suzuki Sets Monthly Domestic Sales Record
Tata Increases Price of Nano, World's Cheapest Car
Indian Auto Sales Growth Edges past China