By Gregor Hastings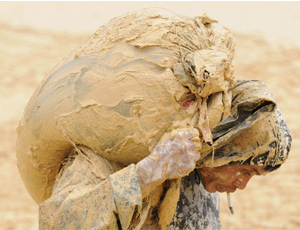 Mar. 16 – The United States, together with the European Union and Japan, launched an official case with the World Trade Organization (WTO) earlier this week protesting China's export restrictions on rare earths.
The latest complaint comes after the EU successfully resolved a similar dispute at the WTO in January this year regarding Chinese export restrictions on other industrial materials, including zinc, bauxite and magnesium.
U.S. President Barack Obama's current administration has consistently taken a firm stance on fair trade practices with particular regard to China which it claims subjects U.S. businesses to "unfair practices."
"We've got to take control of our energy future and we cannot let that energy industry take root in some other country because they were allowed to break the rules," Obama said at a Rose Garden press conference on Tuesday.
However, Beijing has strongly defended its management of the country's rare earths.
"China has maintained a certain volume of rare earths for exports every year despite the huge environmental pressure," said Ministry of Foreign Affairs Spokesman Liu Weimin. "In the future also, China will continue to supply rare earths for the global market according to the WTO rules."
China's Industry Minister Miao Wei also told the country's state-run news agency Xinhua that the country was "actively preparing to defend ourselves" against the WTO complaints and denied the quotas were trade protectionism.
"We feel sorry for their decision to complain to the WTO," Miao said.
Rare earths are a group of 17 minerals which are essential components in the manufacturing of high-tech devices, from mobile phones to renewable energy equipment.
Some experts, however, have pointed out that the scarcity of these rare earths has been greatly exaggerated and that "rare earths" is somewhat of a misnomer. Some of the minerals are as common as copper and even some of the rarest can be found in greater quantities than other precious metals, including gold and platinum.
China is not the only source of rare earths, but it does presently account for over 90 percent of global production because mining in the country is very cheap and standards are lower than in other countries. Beijing officials are expected to use this fact to combat accusations that it holds a monopoly on some of the world's most precious resources.
The Chinese foreign ministry said it hopes "other countries with rare earths will also actively develop their rare earth resources to share the burden of global rare earth supplies."
One of the key issues for the group of developed nations filing the case against China is that the country's export restrictions on rare earth materials present a threat to global resource security. However, another point China will be sure to make is that shipments of rare earths coming out of China in 2011 only filled around 60 percent of the quota. Prices have also fallen due to a combination of weakening demand from stagnating Western economies and the development of the rare earth industries in the United States and Australia.
U.S. officials have said that although the immediacy of the issue has lessened due to falling demand, taking action now will ensure an uninterrupted supply when the global economy does pick up, driving up demand.
Of the minerals comprising the rare earths group, it is the heavy earths that are in critically short supply. These are used to produce industrial magnets and other crucial components. But one of the driving forces behind China's clampdown on the industry has been the aim of drastically reducing the damage it inflicts on the environment. The result has been sweeping mine closures and tight state control of the industry.
Chen Jiazuo, analyst at the Antaike consultancy in Beijing, said that the case might prompt Beijing to change its export and tariff policies.
"Based on previous experiences, the Chinese government will give in in the end," Chen said. "But China's regulation of the rare earths industry is reasonable. Its focus is to protect resources and the environment, and develop in a sustainable way."
The European Union has pointed out that, although it supports environmental protection, foreign demand tends to be replaced by domestic demand and thus any export restrictions are likely to have no effect on environmental protection.
The European Union has had to manage a very delicate balancing act between making complaints on behalf of European companies who grudge paying the 42 percent export duties for rare earth materials, while simultaneously asking for China's help in resolving the EU Sovereign Debt Crisis.
The United States, European Union and Japan may be taking a coordinated approach to avoid retaliation from China similar to that experienced by Japan in 2010 when China halted exports of rare earths temporarily due to a diplomatic dispute.
Japan is the largest importer of rare earths in the world and takes about 60 percent of all Chinese exports. As a result of increasing concerns about resource security, the Japanese government has introduced a 110 billion yen (US$1.31 billion) plan to develop new technologies which will decrease its reliance on rare earth imports by 30 percent in the medium to long term.
If China doesn't reach a deal with the trio within 60 days, they will have the right to ask the WTO to form a judicial panel, which could lead to trade sanctions.
Related Reading
Chinese Gov't Denies China Daily Rare Earth Report
China to Cut Rare Earth Supply
China, India Favorites to Mine Afghanistan
China Wins Duties Case Against EU in WTO Courts
U.S. Urges WTO to Take Action on China, India Subsidies
EU Levies First Anti-subsidy Tariff on Chinese Products