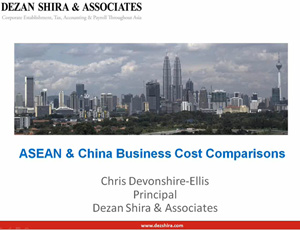 Mar. 29 – The U.S. Department of Commerce has just run a highly acclaimed series of events in the United States, titled the "Hot Markets Watch." Included were two keynote presentations given by Chris Devonshire-Ellis, principal of Dezan Shira & Associates, concerning changing China trends, in addition to discussions about the development of India and the role of emerging ASEAN.
These live presentations were attended by several hundred CEOs through various presentations. These two presentations have subsequently been combined and were re-broadcast live as a webinar yesterday from the new Dezan Shira & Associates liaison office in Charlotte, North Carolina. Online attendance was excellent and we have had many requests to post the entire event – a 45 minute broadcast, plus live Q&A – on our web site.
The complete webinar is now available to view with full audio on the Dezan Shira & Associates web site.
We hope readers will find it of use.