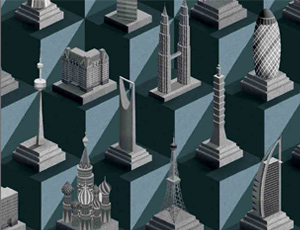 Mar. 30 – India, currently boasting the fourth-largest economy in the world in terms of purchasing power parity (PPP), will become the largest by 2050, according to the 2012 edition of The Wealth Report released this week by global property firm Knight Frank and Citi Private Bank. The report also predicts China, currently the world's second largest economy, will take the top spot from the United States by 2020.
According to the report, by 2050 the Indian economy is expected to be worth $85.97 trillion while China's GDP would stand at $80.02 trillion. Both figures are forecasted to be dramatically higher than that of the United States, which is expected to have a GDP of $39.07 trillion by 2050 – dropping two places from the current number one spot.
Other nations ranked among the world's top 10 largest economies in 2050 are Indonesia (4th), Brazil (5th), Nigeria (6th), Russia (7th), Mexico (8th), Japan (9th) and Egypt (10th).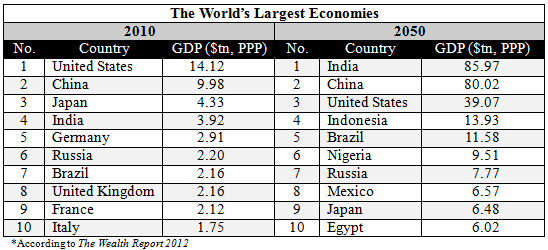 The report emphasizes the movement of wealth concentration from Western markets towards Eastern Markets; the West's share of global real GDP is predicted to fall from 41 percent in 2010 to just 18 percent by 2050.
Southeast Asian deca-millionaires (those with $10 million or more) already outnumber those in Europe and are expected to exceed those in the United States in the next decade.
In terms of forecasted average annual economic growth between 2010 and 2050, emerging Asia had a dominating presence on the report's top 10 growth list while the traditional developed markets of Europe made up the majority of the report's bottom 10.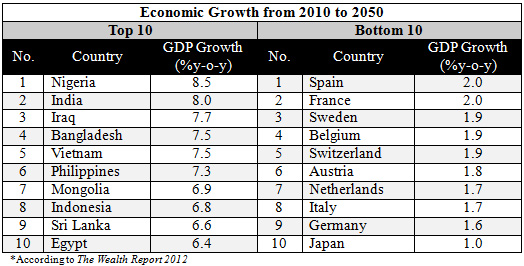 The IMF predicts emerging economies will expand by 5.4 percent in 2012 and 5.9 percent next year. While this certainly marks a significant downgrade from previous forecasts, it still exceeds the average GDP growth rate of 1.2 percent and 1.9 percent expected this year and next, respectively, in the world's most developed economies.
The report also highlights 400 "middleweight" cities of the emerging global economies; those with populations of between 200,000 and 10 million. Such cities include many that are still unknown to the wider world, such as Linyi, Kelamayi and Guiyang in China and Surat and Nagpur in India. Together, they are expanding the global middle-class by millions of families and creating new market opportunities for local and multinational companies.
In China, so-called second and third-tier cities are expected to be key drivers of growth towards the year 2050. Some investors believe Dalian, a major port and software center, or Chongqing, a mega-city of 30 million people currently attracting immense sums of investment, could join the future list of the most important global cities.
In addition to tracking GDP growth, the report also provides an insight into which cities are considered to be the most important to the world's high net-worth individuals (HNWI). To gauge this, Citi Private Bank's global wealth advisory team and Knight Frank's global network of luxury property specialists surveyed 4,000 of their high net-worth clients.
The results show that Beijing and Shanghai are the top two fastest growing cities in terms of their importance to HNWI and will represent the third and fourth most important cities in the world, respectively, in 10 years' time (behind only London and New York City). In terms of GDP growth (1 of 31 indicators), 9 out of the top 10 cities were in China and all of those in the top 20 were in either China or India.
In addition, when leading commentators were asked to predict the world's top city in 2050, Shanghai emerged as the most popular choice. The report cites Shanghai's abundance of sky-scrapers (double that of New York) and aspirational status among ambitious entrepreneurs seeking to make their fortune there as traits of a city with a successful "brand." This is thought to be an important factor in determining its perceived value.
"[Shanghai] has the world's largest container port, fastest train, longest metro system and is currently working on the world's second tallest building," said Bryn Anderson, valuation director at Brand Finance in London. "But what is vitally important in a global city is a strong brand. Frankfurt and Hong Kong lose out to New York and London as global cities because nobody dreams of 'making it big' in Frankfurt. A true global city is one with a brand people recognize, an image to which they aspire and a place where they dream of living. Shanghai performs well on all these and is where the next generation of ambitious entrepreneurs and visionaries will dream of making their mark."
In terms of real estate, the report noted the importance of China's housing market, describing it as "the single most important sector to the entire global economy." Construction in China in 2011 accounted for 13 percent of China's GDP, 20 percent of global steel production, and was the dominant consumer of the world's iron, copper and cement.
Of the world's most expensive cities for real estate, Hong Kong was ranked 4th ($47,500 per square meter), Singapore 13th ($25,600), Shanghai 22nd ($19,600), Beijing 26th ($17,400) and Mumbai, the only Indian city in the top 40, was ranked 36th ($11,400).
Monaco remains the most expensive residential location, with one square meter worth on average $58,300, followed by Cap Ferrat and London.
The report highlights India's weaker economic conditions and high inflation, with a decision by the Bank of India to raise interest rates 13 separate times in 2011, as the primary causes of real estate prices in Mumbai falling by more than 18 percent last year. India's prime market is unusually vulnerable to internal economic events because the country's strict limits on foreign buyers removes the potential safety net provided by inward capital flows from overseas buyers.
The breathtaking growth of the luxury sector in the Asia-Pacific region was cited as an indicator of shifting global wealth eastwards, with the Swiss group Richemont (owners of Cartier) reporting sales growth of 140 percent over the past five years, compared with 27 percent in Europe.
Despite expanding across China, where the luxury market grew by 35 percent last year, Cartier only has one store in India due to the country's 50 percent tax on luxury purchases, despite the vast potential of the Indian market.
Although it has a global scope, The Wealth Report 2012 shows emerging Asia in a particularly good light – and rightfully so. The region as a whole is set to explode in the coming years in terms of economic growth, consumption, and its role in global affairs. The full report, available here in PDF format, is a truly worthy read for anyone interested in learning about, doing business with, or establishing operations in the emerging Asia region.
Related Reading