All four BRIC nations (Brazil, Russia, India and China) will be among the top five grocery markets by 2015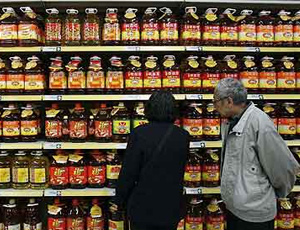 Apr. 5 – China overtook the United States last year as the world's top food and grocery retail market with its sector valued at 607 billion pounds (US$964.5 billion), according to a report released yesterday by IGD. It is also estimated in the report that China's grocery sector will continue to grow over the next few years at an average annual rate of 10.9 percent from 2011 to 2015 when it is expected to hit 918 billion pounds (US$1.46 trillion).
Although China's double-digit GDP growth has slowed down in recent years, the consumer demand for groceries continues to rise at a consistently fast pace.
"The rapid expansion of the grocery sector in China has been fuelled by three main factors: rapid economic growth, population and rising food inflation," said Joanne Denney-Finch, chief executive of IGD.
"Despite its various logistical and bureaucratic challenges, China is a crucial growth market for many of the world's largest grocery retailers," Denney-Finch added. "Even beyond the major cities, there are huge opportunities: forecasts suggest there will be over 200 Chinese cities with a population over a million people by 2025. But given China's size and diversity, it's essential not to treat the country as one homogenous market."
Besides China, the other three BRIC nations, Brazil, Russia, India, will all become the top five grocery markets by 2015, together with the United States. Moreover, Indonesia is forecast to be one of the top 10 largest grocery markets by 2015 for the first time.
The trend of growth in grocery sectors and the increased consumption in China and the greater Asia will bring opportunities to both domestic and international retailers. According to IGD estimates, international grocery retailers could open more than 2,700 stores in China over the next four years.
Related Reading
Report: China Top Economy in 2020, India in 2050
Report: China Top 'Emerging' Market, Vietnam Top 'Frontier' Market
Report: Online Supermarkets in Shanghai Popular Among Young, Affluent
Selling to China & India's Middle Class – It's a Vietnam Manufacturing Play