Exit Shanghai, enter Delhi. My smartphone is reincarnated.
Olaf Griese has spent six years with Dezan Shira & Associates in Shanghai and has just recently relocated to Delhi. In this series of articles, he will detail the differences, as well as the pros and cons, of living in both China and India.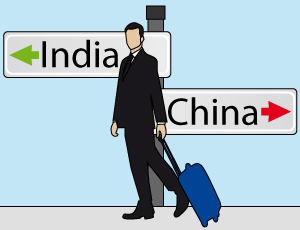 Apr. 6 – Leaving Shanghai after working there for six years was surprisingly easy, as New Delhi was already waiting for me. Cities are only places, and I've come to find that attachment to a city grows primarily through the people who share that place with you: friends, colleagues, acquaintances, clients, business partners, and even just passersby.
In my time, I saw Shanghai develop from a modern city by Chinese standards into one that today is aspiring to be among the world's most international and cosmopolitan destinations. When the opening of the Shanghai Expo saw the construction work magically finished in May 2010, many of us did not recognize the city anymore. Shanghai had become a truly international metropolis with the necessary infrastructure, and even attitudes, that come with it.
That being said, I will not miss the convenience of modern infrastructure, but I will surely miss my Chinese friends as well as my dedicated and hard-working staff. But things move on, and the increasing amount of development in India necessitates my transferring to our business offices there.
My arrival in New Delhi was smooth and quick. The city's modern and compact airport allows the business traveler to go to immigration and baggage pickup easily, and walking distances are much shorter than Shanghai's massive Pudong Airport. Roughly 40 minutes after landing and I was standing in the lobby of my hotel in Gurgaon where our office in New Delhi is located.
The hotel check-in was much more efficient than in China, where the hotel staff are sometimes not able to locate the Chinese visa and where English can be problematic (as can a lack of service aptitude).
It is always easier to arrive somewhere instead of leaving a place, and my first day in the office was heartwarming to say the least. All of our staff came to my office individually and welcomed me to India. I've been traveling regularly to the country on business for several months and I know our staff personally, but their thoughtfulness and welcoming attitude was a pleasant surprise.
Another surprise was the vivid activity of my smartphone, being almost akin to a reincarnation. I've been using a smartphone for just a couple of months, as I had previously thought that my BlackBerry was sufficient for my professional activities. Of course, my Android showed that this was the wrong assumption. In China, it was quite convenient to use my smartphone and download different apps, and I didn't have the impression that these were censored or controlled. However, when I arrived in our New Delhi office and turned on my phone, it nearly had an orgasm.
Within 20 minutes, 28 new updates for my existing apps arrived. It was not a surprise to me that many of them were updates for Facebook (which is blocked in China), but I didn't expect to also have updates for my Google Calendar, Skype, Viber, Dropbox, etc. These are common admin and communication apps, but interestingly enough, I would not even get these messages when I was working in our Hong Kong office. After being released from the censors in China, it seems that my smartphone will also be starting a new and different life with me here in India.
This is Part I of our ongoing Expat Transitions Series. The rest of the series can be found below:
Olaf Griese is a partner with Dezan Shira & Associates in India. He is based in the firm's Delhi office providing corporate establishment, tax planning, business advisory and on-going tax, accounting and related services to foreign investors throughout the country. The firm has five offices in the country. Olaf can be reached at [email protected].
Related Reading
Doing Business in India (Second Edition)
This book aims to provide a basic overview of all topics related to doing business in India – history, business etiquette and culture, and how to invest into the country, in addition to a detailed, state-by-state demographic and geographic overview and a comparison with China.