Apartment Hunting in Delhi vs. Shanghai

Olaf Griese has spent six years with Dezan Shira & Associates in Shanghai and has just recently relocated to Delhi. In this series of articles, he will detail the differences, as well as the pros and cons, of living in both China and India.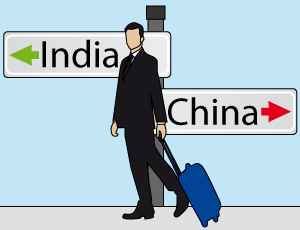 Apr. 10 – My first apartment when I arrived in Shanghai six years ago was on the 11th floor of a high-rise building in the city's Hongkou District – an area popular among the local working class looking for cheap accommodations close to People's Square. After a few years, I moved to Huaihai Road opposite the well-known Jiaotong University where I shared a flat on the 21st floor with a friend. Finally, just before coming to India, my last apartment was on Madang Road close to the old quarter at Tianzifang where I lived on the 15th floor. During all these years I worked out of our local Dezan Shira & Associates office on the 18th floor of Tian'an Center overlooking People's Square. Generally speaking, I found living in Shanghai relatively easy and fairly hassle-free. Finding and maintaining an apartment was not difficult, and I was able to have friends and family stay whenever they visited. But I never lived below the tenth floor. That has interesting implications.
After moving to India, however, I've found that the sky is no longer the limit. So far over my first 10 days, I've been living out of hotels. When I first arrived in the country, I checked into a hotel in Gurgaon, which is where our office in the city is based. That's rather like being placed in Shanghai's Pudong – nice, but very much a business area with not much to do after work. That being said, it is very convenient for walking to the office just five minutes away.
The real action, however, is downtown. So to assess the differences in living, I moved near to Connaught Place at the Shangri-La last weekend to get a feel for the area. While this new location is an hour's taxi drive from Gurgaon, it is considerably nicer: more trees, green, a lot of nice parks, as well as a better selection of restaurants and night life. Delhi, like Shanghai, has a local "Time Out" magazine and it is easy to find some nice bars and other entertainment. The only downside in my mind would be the combined two hour commute each day.
So, after weighing my options, I decided to try and look for an apartment in downtown South Delhi reasonably close to our office, though it was immediately obvious that I will not rise in New Delhi to the same physical heights as I did in Shanghai. For example, I visited an apartment today on the fifth floor, and that was the highest apartment I've seen during my apartment search thus far. I even had a look at the apartment's beautiful roof terrace, which seems to be a common feature in South Delhi while such luxuries are typically reserved for only the ultra-rich in Shanghai.
From what I've seen so far, residential property rarely reaches above six floors. Most of the time when I'm visiting properties with my real estate agent, we take the stairs even when an elevator is available. On the way out, we often take the elevator down with the landlord as if it is a validation of a sales process; a useless luxury.
The composition of apartments in Delhi is also somewhat different. It is interesting to see that most of the bedrooms have an integrated bathroom and that this is not limited to the master bedroom, but also applies to the guestroom. In Shanghai, only my last apartment had a similar feature.
Some of the furnished apartments can also be surprising. Decorated with ancient furniture and traditional Indian handcraft, they can be very classic. On the other side of the spectrum, I also visited an apartment with a modern kitchen and dining room with colorful glasswork. In stark contrast, the bedroom – with a very colorful, bubble-gum squeeze style – could have been the perfect hiding place for Alice in Wonderland. The housing market in New Delhi is very dynamic and it seems not to be difficult to find suitable housing.
Regarding transportation, I decided to take the Delhi Metro to work instead of a taxi ride to see if the one hour taxi journey would improve via subway. A lot of Delhi's metro system runs above ground, and although it was busy at rush-hour it was easy to use, clean and efficient. It also cut the driving time in half – I was able to make it to my office in Gurgaon in just 30 minutes. Traffic in Delhi is not too bad in terms of volume, but there is so much construction going on that there constantly trucks and cement mixers everywhere holding up the traffic. That will change, and it is surprising that it is not the big infrastructure problem that I expected.
In the end, I found a suitable four-bedroom apartment in South Delhi that I will probably take that also features a large living room and nice kitchen with plenty of natural light. Not being surrounded by so many tall apartment buildings like in Shanghai means the natural light in Delhi is better and reaches lower.
How much? I believe I can get it within my budget of US$2,000 per month. In Shanghai, such an apartment would be more than double that figure, and perhaps not quite as nice.
When I left Shanghai many friends told me Delhi was dirty and horrible. The funny thing is that I can see myself improving many aspects of my expatriate life here and apartment accommodations is one of them. There are two other things I can see in Delhi near the apartments that I cannot see in Shanghai: parrots flying about the trees, and sometimes monkeys. It is certainly very green, and I am looking forward to moving in.
The deal? Three months deposit and one month rent upfront. Normal, I think. But living on a lower floor when all other surrounding buildings are also low allows more sunlight, more greenery, and more birdsong in the mornings in Delhi than it ever did in Shanghai.
This is Part II of our ongoing Expat Transitions Series. The rest of the series can be found below:
Olaf Griese is a partner with Dezan Shira & Associates in India. He is based in the firm's Delhi office providing corporate establishment, tax planning, business advisory and on-going tax, accounting and related services to foreign investors throughout the country. The firm has five offices in the country. Olaf can be reached at [email protected].
Related Reading
Doing Business in India (Second Edition)
This book aims to provide a basic overview of all topics related to doing business in India – history, business etiquette and culture, and how to invest into the country, in addition to a detailed, state-by-state demographic and geographic overview and a comparison with China.