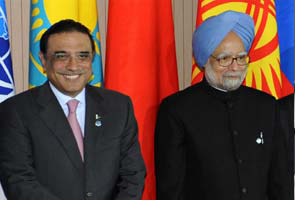 Apr. 10 – In meetings that Pakistani President Asif Ali Zardari had with Indian Prime Minister Manmohan Singh in Delhi on Sunday, emphasis was made on improving ties and moving decades of mistrust aside.
Although terrorism was high on the agenda, so was trade, with Pakistan being urged to adopt the "Sino-Indian Model" of engaging each other; a move endorsed by Beijing. Pakistan has long held that only negotiations over Kashmir could lead to trade talks, but this has come at the expense of an unofficial impasse and a massive drop off of Indian investment into Pakistan.
The "Sino-Indian Model" is referred to as keeping the door open for fruitful bilateral trade talks without having to constantly refer to territorial disputes. Both India and China lay claim to thousands of square kilometers of land along their borders, however this has not prevented Sino-Indian trade from developing. Last year, bilateral trade hit US$70 billion and this figure is expected to rise to US$100 billion by 2015. In contrast, Indo-Pak trade stood at just US$2.7 billion last year.
The meeting appeared to go well and may signal another thawing in relations between India and Pakistan. Dr. Singh was invited to Islamabad and has indicated he is willing to attend providing certain steps were taken concerning terrorism issues. A mooted tour by the Indian cricket team of Pakistan was also discussed.
Related Reading
China's Territorial Disputes with India
Pakistan Offers China a Naval Base on Indian Ocean
India Asks China to Stop Developing Infrastructure in Pakistan Occupied Kashmir