Apr. 13 – The average Indian working in Mumbai would need to save every rupee of their income for over 300 years in order to purchase a decent-sized apartment in a prime location in the city, according to a cost of living report recently released by Knight Frank LLP and income estimates based on purchasing power parity made by the U.S. Central Intelligence Agency.
The report shows that a 100 square meter luxury residence in downtown Mumbai costs about Rs. 5.8 crore, or slightly over 308 times the average annual income in the city. Meanwhile, the average worker in Shanghai would need to spend a touch over 233 times the average annual wage to buy a similar apartment in the city, ranking it second behind Mumbai.
Prime location home prices in Mumbai average US$11,400 per square meter in the quarter ending December 31, 2011, while India's per capita purchasing power parity US$3,700, according to the report. Shanghai residential prices were US$19,600 per square meter and China's income was US$8,400.
"There are big differences in wealth levels in emerging markets compared to the developed world," said Liam Bailey, the head of residential research at Knight Frank in London. "In the first phase of growth, some people make big fortunes, it takes time for this to trickle down as the middle class develop and generate their wealth."
Rounding out the top five were Moscow in third (143.7 years), London in fourth (136.2 years), and Hong Kong in fifth (96.4 years).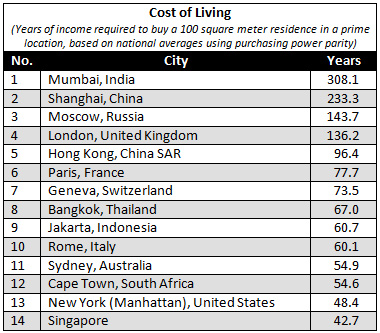 Related Reading