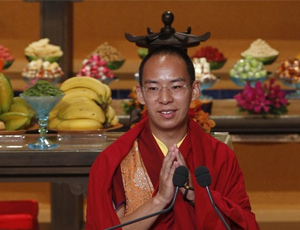 Apr. 26 – Gyaltsen Norbu, the individual that China's central government has hand-selected as the 11th Panchen Lama, made his first official speech outside of Mainland China on Thursday.
He took no questions at the World Buddhist Forum in Hong Kong and stayed away from controversial subjects, instead taking the opportunity to talk about Buddhism, Dharma, and using inner peace to achieve social harmony.
"In religion, Dharma means law or natural law and is a concept of central importance. For many Buddhists, the Dharma most often means the body of teachings expounded by the Buddha," the 22-year-old monk said in Mandarin. "Current society values external science and technology over the inner sciences."
China selected Norbu as their choice to hold the second-highest position in Tibetan Buddhism in 1995. However, there is some contention to his legitimacy due to the fact that, previous to Beijing's selection, Tibet's spiritual leader the Dalai Lama had already selected a different young boy to take on the title of the 11th Panchen Lama.
However, the young boy selected by the Dalai Lama, Gedhun Choekyi Nyima, was taken away by Chinese authorities soon after Beijing's selection of Norbu and hasn't been seen in public since.
Related Reading
Mongolia Enthrones Its Dalai Lama
China-India Call Off Border Talks Due to Dalai Lama Speech