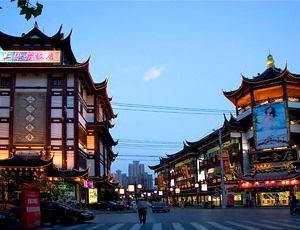 May 3 – The International Monetary Fund released its new Regional Economic Outlook for Asia-Pacific in April, projecting 6 percent regional growth in 2012 and 6.5 percent in 2013. However, by remaining the fastest growing region in the world, Asia-Pacific shares both the upside and downside risks of the global environment. The report cautions on potential challenges and provides possible solutions for Asian countries to gain momentum in economic growth over the course of 2012.
A slowing but promising Asian economy
Sluggish economic performances in the Eurozone and the United States are having a significant effect on the Asian market, since many countries in the region have export-oriented economies relying heavily on external demand.
However, there are signs of stabilization in the Asia Pacific region even while the global environment remains uncertain.
First of all, high-frequency indicators such as PMIs and export orders have strengthened in the first quarter of 2012, which shows promising industrial production and industrial activity in the region.
Secondly, domestic demand in Asian countries remains strong as a result of a general easing of macroeconomic policies – buffering the impact of weak external demand.
Thirdly, inflation across Asia has declined gradually since mid-2011, although most economies in the region have increased inflation expectations.
Lastly, emerging Asia has experienced a rebound of capital flows in the beginning of 2012 compared to that in late 2011. Foreign investment and capital inflows to emerging Asia have resumed due to an easing in global economic turbulence.
In terms of GDP growth of individual countries, the IMF believes China and India will keep leading Asia's growth in the near future. China's GDP growth will slow down to 8.2 percent in 2012 from 9.2 percent in 2011, and it will pick up to 8.8 percent in 2013. The IMF lowered India's growth projection from 7.1 percent to 6.9 percent in 2012 in the report, but it will rise again to 7.3 percent in 2012. Meanwhile, emerging Asia and ASEAN will have slow but steady growth over the next two years. The IMF's full projections can be seen in the table below.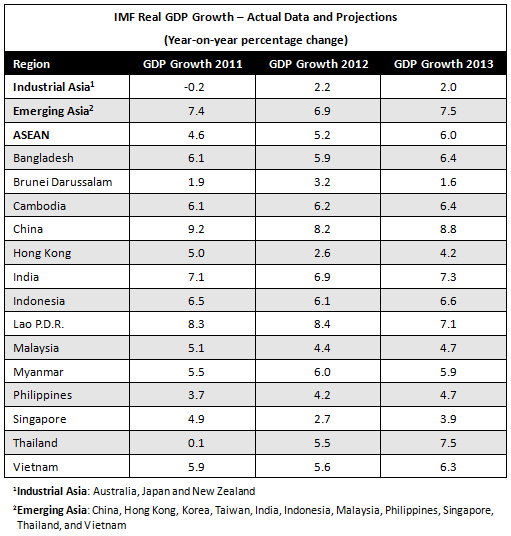 Economic rebalancing a policy priority
Given the fragile global economy, it is crucial for Asian countries to pursue stable, non-inflationary growth and to strengthen domestic growth to combat external uncertainties. The economic rebalancing should be prioritized by the policy makers, as IMF suggested in the regional outlook.
In the report, the IMF provided the following country-specific policy suggestions:
China
The shrinking trade surplus in China might lead to a shift of global demand. However, China's sustainable growth still depends largely on its transition from an export-oriented economy to a consumption-driven economy. In the meantime, growing consumption in China will offer great opportunities to its Asian trading partners if they can access Chinese consumers. The uncertainty of China's external rebalancing lies in whether it will lead to new domestic imbalances.
India
The slowdown of India's GDP growth in 2012 is a result of a slowdown in investment due to the harsh business environment. In order to achieve sustainable growth, India needs to improve its investment climate through speeding up its structural reform. Moreover, it's also crucial for India to smoothen its demographic transition by raising female and old-age labor participation
ASEAN
For many ASEAN economies, rebalancing requires an acceleration of public investment in infrastructure. Government-sponsored or financed public infrastructure projects will not only safeguard fiscal stability, but will also help crowd-in more private investments to boost productivity and growth.
Asian low-income and Pacific island nations
The key to rebalanced and sustainable growth for Asian low-income and Pacific island countries is to attract more foreign direct investment, from countries in and out of Asia. FDI will help develop the commodity sector, as well as to boost manufacturing and tourism in these countries. More importantly, FDI will expose these low-income and island countries to more advanced economies and help them participate in and benefit from regional rebalancing and growth.
Related Reading
Report: China Top Economy in 2020, India in 2050
Report: China and India Most Cost-Competitive Countries
Report: Mumbai Tops Shanghai as Least Affordable City