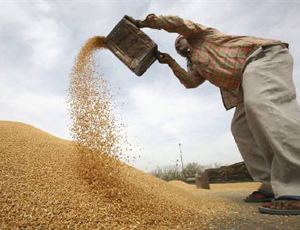 May 15 – India is expected to overtake China as the world's largest rice exporter this year as the Indian harvest has had a major boost from both the weather and the government, pushing prices to record highs. This means India is likely to overtake not just China, but also Vietnam and Thailand as the biggest shippers, with exports anticipated to rise to 7 million tons in the year to August. That would be more than double the amount shipped over the previous 12 month period, according to the International Rice Research Institute and the U.S. Department of Agriculture.
India's global market share is growing due to financial incentives in India to produce more, coupled with the lifting of a three-year-old ban on the export of non-basmati rice varieties, a rise in India's yield, and a weaker rupee. State reserves have also increased, while the Indian government raised the minimum price to just above US$9.00 per 100 pounds for the first time, an all-time high. India's total trade share of global rice exports is now expected to exceed 21 percent.
The FOB price of Indian rice is still competitive, however, costing US$385 per ton compared to US$585 in Thailand.
"We are likely to see India become dominant in increasing numbers of agricultural and mineral commodities as improving infrastructure, more consistent government policies, and a low worker cost shift the global dynamics of bulk trade to Indian production," comments Chris Devonshire-Ellis, principal of Dezan Shira & Associates.
Related Reading
Report: Economic and Social Survey of Asia-Pacific Region 2012