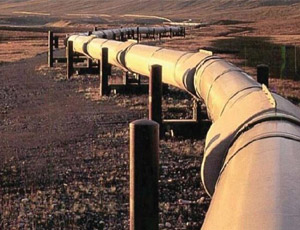 May 28 – In an important moment for India-Pakistan relations, both nations have signed a commercial agreement to buy natural gas from Turkmenistan, which will be shipped from a pipeline that travels through Afghanistan, Pakistan and into India. This long-delayed project, commonly referred to as the TAPI Pipeline, is worth over US$7.6 billion. When completed, the pipeline will run 1,680 kilometers and will have the capacity to carry 90 million cubic meters of gas a day. It is slated to become operational in 2018.
The United States has played a central role in establishing this agreement, supporting the project for over 20 years. The project has previously been delayed due to due to political and military turmoil in Afghanistan and disagreements between the partners – especially India and Pakistan. The United States hopes that this pipeline will further isolate Iran, who is currently trying to construct a pipeline to Pakistan. Security concerns in the area still exist, due to the Taliban's control of large areas in southern Afghanistan, and a separatist rebellion that is currently occurring in Pakistan. Nonetheless, the countries involved are determined to follow through with the project.
The TAPI Pipeline will be the first transnational pipeline agreement signed between India and Pakistan. After decades of antagonism, it represents improving relations between the neighbors. Pakistan will be significantly tested, as it must prove that it can normalize relations with India and allow the safe passage of gas through the 800 kilometer section of the pipeline that passes through its territory. Initial signs, however, are positive.
"This will be a peace pipeline because it will enhance the cooperation between India and Pakistan as well," stated Pakistan's Information Minister Qamar Zaman Kaira.
In a further sign of improving relations between the rancorous neighbors, India and Pakistan has also finalized a new visa regime that seeks to ease the formerly strict travel restrictions on cross-border movement of their citizens. The negotiations, which have been ongoing for the past year, were finalized during a two-day meeting last week between the interior secretaries of both countries.
While the longstanding rivalry between India and Pakistan indicates that a normalization of relations will not be a swift process, it can be observed that both nations are actively pursuing a peaceful relationship.
Related Reading
Pakistan Beer to Be Sold in India for First Time Since 1947