China two to three times more expensive than India for skilled labor
Op-ed Commentary: Chris Devonshire-Ellis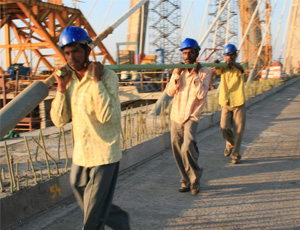 Jun. 7 – Comparing labor costs is always a difficult art, not least because different countries have different ways and mechanisms of measuring these. China, for example, levies a minimum wage across the board irrespective of employment type, whereas India imposes different minimum levels dependent upon specific types of work. However, as the population demographics are now shifting to a younger workforce in India from China, such comparisons, while not exact, provide some clues about the nature of costs associated within the labor pools of each.
In this example, we have researched seven cities in both China and India, to try and provide a general geographic spread in both countries. The minimum wage levels in each are set by the respective state and provincial governments. In the case of India, we have taken skilled construction workers as the base target. The results are as follows: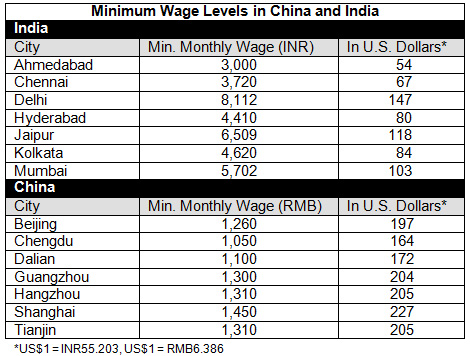 It should be noted that in China, a mandatory welfare payment is added to the minimum wage as paid by the employer and this typically adds an average 40 percent to 50 percent on top of the minimum wage identified above. India does not levy a uniform welfare payment upon salaries, and this can either be discounted completely or is a typical maximum of 10 percent of wages.
The figures adequately demonstrate that Chinese minimum wages are two or three times the level of their Indian counterparts, and even higher when welfare payments are added on top. This bears out our previous findings that China now has the third highest employment costs in emerging Asia and that the population demographics now favor India.
In India, the development of a large, yet young labor force with an average age of 23 is showing itself in lower minimum salary levels, whereas in China, where the average age of a worker is now 37, the higher minimum wage and more expensive welfare to cater for that age is now having a significant effect in demonstrating the labor cost gap. The message for labor intensive industries is clear – India is now a key market for establishing operations.
Chris Devonshire-Ellis is the founding partner of Dezan Shira & Associates. Dezan Shira & Associates is a specialist foreign direct investment practice, providing corporate establishment, business advisory, tax advisory and compliance, accounting, payroll, due diligence and financial review services to multinationals investing in emerging Asia. Since its establishment in 1992, the firm has grown into one of Asia's most versatile full-service consultancies with operational offices across China, Hong Kong, India, Singapore and Vietnam as well as liaison offices in Italy and the United States.
For further details concerning these markets, including China-India cost comparisons, please email [email protected], visit www.dezshira.com, or download the firm's brochure.
You can also stay up to date with the latest business and investment trends across emerging Asia by subscribing to the Asia Briefing weekly newsletter.
Related Reading

Payroll Processing In India
In this issue of India Briefing Magazine, we aim to help expatriate managers and business owners grasp the overall picture of how payroll works in India. We also discuss how outsourcing payroll can benefit all types of companies, particularly those of small and medium-size.
China's Social Insurance Law
A summary of some of the key points in the newly implemented Social Insurance Law, which covers a great deal more than just incorporating foreigners into the system. We explain the costs and benefits of participation by foreign employees to both companies and individuals as well as take a look at some of the trends across the country relating to the implementation of the law.
Doing Business in India (Second Edition)
This book aims to provide a basic overview of all topics related to doing business in India – history, business etiquette and culture, and how to invest into the country, in addition to a detailed, state-by-state demographic and geographic overview and a comparison with China.
India Wages and Currency Beckon Manufacturers from China
Increased Expat Costs in China Will Relocate Many to India
Hedging China – Manufacturing and Selling in India, Vietnam and Myanmar