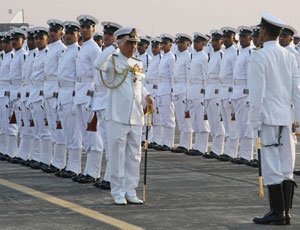 Jun. 26 – According to India's Naval Chief Admiral Nirmal Verma, who spoke at the International Institute for Strategic Studies in London on Monday, the Indian Navy will soon attain a retaliatory nuclear strike capability. In reference to the three arms of India's defense, Verma explained that this was necessary so that India has a credible and invulnerable deterrent nuclear triad in place.
"A retaliatory strike capability that is credible and invulnerable is an imperative. The [Indian] navy is poised to complete the triad, and our maritime and nuclear doctrines would then be aligned to ensure that our nuclear insurance will come from the sea," Verma said during his address.
Affirming India's focus on maritime security, he further stated that "the destiny of our nation is entwined with our maritime destiny."
While India is currently believed to have strong retaliatory strike capabilities through its army and air force, it currently does not have the necessary assets within its navy. It is expected that the induction of the indigenous INS Arihant nuclear submarine, which will be launched for sea trials in the near future, will bridge this gap and complete India's nuclear triad.
During his speech, Verma also highlighted the emerging geopolitical order within the Asia Pacific as a key factor in India's strategic calculations.
"The global gaze is focusing increasingly on the Asia Pacific region which underlines the significance of the Indian Ocean in global security affairs," he said. Referring to the regional scenario by the year 2025, he further stated that "three of the world's four largest economies will be in Asia. The region is also recognized as the primary loci of ostensible non-state threats in the world. Juxtaposed with these entities are three of the world's four largest armies, and at least four declared nuclear weapon states."
In light of this situation, Verma highlighted the necessity of India's indigenous aircraft carrier (IAC) program, and the ongoing construction of destroyers, frigates, strategic submarines, maritime reconnaissance aircraft and multi-role helicopters. In the medium-term, India plans to have at least two fully-operational aircraft carriers available at any given time.
India currently has one aircraft carrier in operation, the INS Viraat, which is an ageing ex-British carrier. It is expected that this vessel will be retired when India's first IAC, the INS Vikrant, becomes fully operational in 2016. Following this, there are plans to introduce an even larger aircraft carrier, likely to be called the INS Vishal, by the end of the decade.
Verma's speech has characterized the future geopolitical environment of the Asia Pacific as intensely competitive and dynamic, thus making it necessary for India to develop its capabilities to prepare for any scenario. The completion of its nuclear triad will ensure that India is highly protected against any future threats to its national security.
For more of the latest news and trends across emerging Asia, subscribe to our complimentary weekly news flyer or check out our new Facebook page at www.facebook.com/2point6billion.
Related Reading
China's Territorial Disputes in the South China Sea and East China Sea
China's Territorial Disputes with India
Maritime Security: China, India and the Impact of the United States
Pakistan Offers China a Naval Base on Indian Ocean
India's DRDO: Developing Weapons of the Future
India Unveils First Domestically-Produced Attack Helicopter