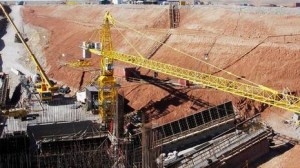 Aug. 15 – It is expected that the state-owned Aluminium Corp of China Ltd, or Chalco, will drop its takeover bid for Mongolia's coal-producer SouthGobi Resources Ltd due to fierce resistance from the Mongolian government.
In April of this year, Chalco offered $926 million for a 60 percent stake in SouthGobi. Almost immediately, however, the Mongolian government reacted by introducing a new investment law that limits foreign companies from owning more than 49 percent of companies involved in mining, finance, media and telecommunications sectors. In an even more aggressive stance, the Mongolian government has delayed the renewing of some of SouthGobi's license, scaring away customers and squashing production.
This has stalled Chalco's takeover bid to the extent that it is expected it will be dropped. Mongolia's new protectionist policies mean that Chalco's bid will now be scrutinised by a government panel. In effect, Chalco has stated that it will be unable to finalise its bid until September 4, as it needs more time to "engage with the Mongolian government and review the terms and conditions of the transaction."
The majority shareholder of SouthGobi, Turquoise Hill Resources Ltd, supports the deal, yet has faced an immovable obstacle in the government. SouthGobi Chief Executive Alex Molyneux has recently told Reuters that "they [Mongolian government] have done everything in their power to roadblock the deal by the Chinese state company." He further stated that "the evidence I have before me seems highly unlikely that the bid is going to go forward. It's 100 percent clear that Mongolia has made the deal impossible."
Chalco, who has increasingly been investing in the mining sector as the profit margins for core aluminium drops, has yet to comment on the situation.
Chris Devonshire-Ellis, of Dezan Shira & Associates, who sits on the UNDP Development Program board for Mongolia, comments: "The situation concerning Chalco is complex. It is not purely a matter of not wanting Chinese investment, it relates to the changing of foreign investment laws and the terms and conditions of the contract that Chalco wanted to insert, such as the provision of Chinese labor in Mongolia. The Chinese labor issue is a huge political problem in Mongolia, and I have to say the Chinese may have to rethink their strategic policies of tendering international contracts. It is important for countries that have the ability to receive Chinese investments that they maintain their own employment and ethnic sovereignty – China will have to learn from this. Mongolia is a landlocked nation, highly suspicious of China as a result of its involvement in Tibet, and it wants to keep China at arm's length. I do not believe the Chinese have fully appreciated the position in Mongolia, however having their money turned away may become a more familiar process globally if they do not wake up to the real issues."
For more of the latest news and trends across emerging Asia, subscribe to our complimentary weekly news flyer or check out our new Facebook page at www.facebook.com/2point6billion.
Related Reading
Mongolia May Bar Foreign State-Owned Companies
Construction on First Mongolian Oil Refinery Postponed to 2015
Eight New Gates Open for Coal Transportation Between Mongolia and China