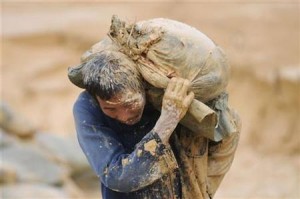 Op-Ed Commentary: Christoph Unrast
Aug. 17 – Recent developments on the Korean Peninsula indicate that the Peoples Republic of China may be further consolidating their control of the global supply of rare earth elements. Already China has a monopoly in the production of rare earth elements, and could now it could get a hand on North Korea's resources, which are estimated to be the second largest in the world.
Rare earth elements have been a perennial topic for quite a while. Although the metals are not as rare as the name suggests, China was able to develop a production monopoly since the 90s, replacing the once leading nation of the United States. This issue received its first major attention when Beijing used its monopoly in a diplomatic stand-off with Japan in 2010, cutting of Japans industry from several of the most essential elements used in high-technology products.
Since then, WTO cases have been filed against Beijing, with countries such as the United States, Japan, and Australia announcing that they may restart their potential national supply chains. In reaction China has tried to strengthen its control by shutting down illegal mines and introducing new environmental standards. As a result, export quotas from China have been reduced steadily, while prices have also dropped after an all-time peak.
What started as a possible reconciliation between South and North Korea could now bolster China's diminishing monopoly. As The Wall Street Journal reported, the two Koreas held negotiations in 2011 to jointly develop the rare earth deposits of the North and to return to a project that was stopped in 2010 after the fatal attacks on the South. As both parties could not reach a mutual satisfying agreement, it seems that Beijing is now closing the deal with Pyongyang.
In the same week that China's Inner Mongolia Baotou Steel Rare-Earth (Group) Hi-Tech Co. launched a national trading platform for rare earth elements, it became public that Kim Jong-un's uncle, a man who is supposed to have major influence over his nephew, visited Beijing to search for new ways to revive the broken North Korean economy. According to Reuters, no details were exposed; yet if the rumors are to be believed, the joint production of North Korea's rare earth resources has been one of the major topics.
China's interests in securing access to North Korea's resources are obvious. After skyrocketing prices, Beijing partially lost control and is now eager to regain the advantage. One example is the trade of rare earth elements with South Korea, which, according to China Daily, has seen a surge in June of 36.3 percent to up to 126 metric tons, while the overall value declined by 0.4 percent. Additionally, the moment China is able to trade with North Korea's rare earths, as Pyongyang itself is not able to extract the elements, Beijing could further impose environmental regulations on its domestic mining industry. The undeniable damage the mining process has on the landscape is an argument that has China already tried to use in its ongoing WTO case.
North Korea could receive a flow of fresh capital into the country without having to make any political reconciliation moves towards South Korea. Kim Jong-un could use the economic gains of the deal with China to further stabilize his authority while avoiding painful reforms or a further opening to the West. The regime's self-confidence would be boosted, which could worsen the prospect of any future approximation with the South.
If China is able to fully implement the deal and use the newly available resources to regain an improved price control on rare earth elements, the implications for global high-technology industries could be a shortage of supply. Given the case that China would fulfil its export quotas and global demand would be satisfied, at least a significant rise in prices has to be expected. That makes dependent nations like South Korea and Japan even more eager to make China's monopoly a case for the WTO. Even if the discovery of new resources proves to be right, such as Japans announcement in July 2012 of a deposit in the Pacific seabed, the time it takes to use that rare earth to counter China's price control would be very costly.
Christoph Unrast is currently a PHD-candidate at the CAU Kiel and is a researcher for the geostrategic consultancy firm Wikistrat.
The opinions expressed in this article are those of the author, and do not necessarily reflect the views of 2point6billion.com or Asia Briefing Ltd.
Related Reading
Chinese White Paper on Rare Earths Signals Shift in Global Market
U.S., EU and Japan File WTO Case against China's Rare Earth Quotas
WTO Orders China to Remove Export Restrictions on Industrial Minerals