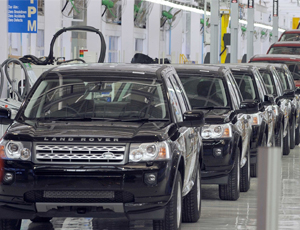 Aug. 28 – Jaguar Land Rover (JLR) saw sales to China increase by 91 percent over the past three months as Chinese consumers eagerly snapped up the luxury cars. Imported into China from JLR's UK plants, the brands comprise the best of British manufacturing expertise tied to Indian management, regional marketing knowledge and ultimate ownership – Tata Group purchased the then-struggling brands from Ford in 2008. Since then, the UK-based operations have been extensively re-financed and re-modeled. The result? Two now Indian-owned premium auto brands that China just can't get enough of.
"Tata has been smart to buy up global premium brands, reinvest in them, and reposition them within the Asian market," says Chris Devonshire-Ellis of Dezan Shira & Associates in Delhi. "Ford concentrated on sales to the U.S. and European markets for both the Land Rover and Jaguar cars, and that was a mistake. Tata has refocused its attention on Asia, including India and now China, and the results are clear to see."
The top selling brands for JLR in China are the new Range Rover Evoque for the younger consumer, and the Jaguar XJ for the older businessman. It's also good news for the British Government. JLR's UK-based manufacturing facility expects to hire another 1,000 workers to expand capacity at its plant in Halewood – meaning that Tata's acquisition of JLR has provided jobs for Britain too. The lessons of foreign management after the debacle of MG Rover's bankruptcy (and subsequent sale of its factory production lines to China) mean that for cars produced in the UK, 8 in 10 are now exported.
"We are seeing the dynamics of consumerism shift from the West to sales in Asia, and the Tata experience shows that both China and India are growing as massively important consumer markets for Western brands," adds Devonshire-Ellis. "JLR also achieved a growth rate of 157 percent for these two brands in India last year, demonstrating that Asian consumer knowledge is going to be highly in demand for U.S. and European manufacturing-based businesses wanting to reach out to these newly emerging and very wealthy consumer markets. American exports to China hit US$100 billion last year and that trend is going to continue."
JLR meanwhile posted a 34 percent rise in profits in May for the year 2011-12.
Related Reading
Report: India to Overtake Japan in Car Sales by 2016
Auto Sales Slow Down in China and India
China's Foreign Car Imports Nearly Double in 2010
SOE Alliance in China to Invest Billions in Electric and Hybrid Cars
India's Maruti Suzuki Sets Monthly Domestic Sales Record
Tata Increases Price of Nano, World's Cheapest Car
Indian Auto Sales Growth Edges past China