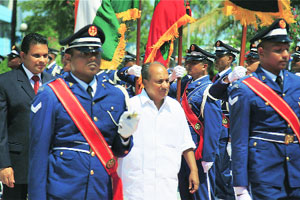 Sep. 17 – During a high-level meeting on Sunday in the Maldivian capital of Male, India and the Republic of Maldives agreed to measures that will see the intensification of their defence and security cooperation. Indian Defence Minister A K Antony met with his Maldivian counterpart Mohamed Nazim, where both nations pledged to create a united front to battle the challenges presented by terrorists and non-state actors.
The main areas in which India and the Maldives will increase their cooperation include regional counter-terrorism, anti-piracy and maritime security in the Indian Ocean.
'Maldives will stand side-by-side with India to ensure that maritime security of Indian Ocean is ensured; that the stability in the region is maintained; and above all, that the threats that our two countries face, particularly from terrorist groups and other non-state actors are eliminated,' said Nazim.
During his visit, Antony inaugurated a military hospital that was built with Indian assistance. He also conveyed that India had decided to extend the deployment of its ALH Dhruv helicopter, which has been operating in the Maldives since 2010, for another two years.
In the areas of dialogue and military cooperation, it was also announced that India will station a Defence Attaché in the Maldives. Furthermore, a team of flying instructors will be deployed to the Maldives to assist with the training of helicopters pilots. Simulator training at the Hindustan Aeronautical Limited facility in Bangalore will also be available to Maldivian pilots.
In a rare and honourable ceremony that further highlights the strength of Indo-Maldivian ties, Defence Minister Antony was accorded the Guard of Honour, something that is usually only reserved for the head of states.
Antony stated that 'India is proud of our partnership and engagement with Maldives and deeply value the friendship of the people of Maldives. Maldives can always count on India as a sincere friend.'
This is an opportune visit from India, as it is at a time when China is expanding its activity and spreading its influence in the Maldives. Due to its geographical location in the Indian Ocean alongside major shipping lanes, the Maldives is of strategic interest for both China and India. China has recently opened an embassy in Male, which symbolises its increasing interest in the Maldives. However, it is yet to be seen whether or not the Maldives will become another platform on which the Sino-Indian rivalry will play out.
Related Reading
A Sino-Indian Conflict of Himalayan Proportions?
India to "Watch" China's Moves in the Indian Ocean