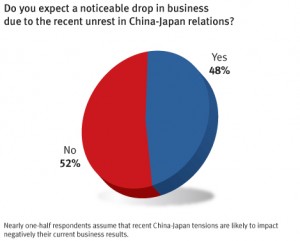 China exporters to Japan project revenue losses of up to 10 percent this year, while importers foresee a 5 percent decline in sales.
Oct. 11 – Anti-Japan protests in cities across China appear over for now, but executives at companies with business ties to Japan foresee mid- to long-term effects of the island dispute on their revenue. Almost half of the 482 respondents in a survey conducted by Chief Executive China Online expect a negative impact on their business this year. Sixty-eight percent predict a loss of 10 percent or less to their annual sales.
With 2011 bilateral trade amounting to $342.8 billion, the implications for the already-slowing China economy may be unfavorable.
Among the China exporters taking part in the poll, almost 30 percent estimated their company's loss at 5 to 10 percent this year. Extrapolated industry-wide based on last year's trade value, revenue could drop by $7.4 billion to $14.8 billion in 2012.
Two-thirds of polled importers of Japan-made goods expect losses of 5 percent or less, which would constitute a $9.8 billion loss in business countrywide.
In the short-term, most respondents plan to maintain a low profile, while conducting "business-as-usual" where possible. But they are following developments closely and are ready to react if anti-Japan sentiment continues to grow.
Here is how different types of businesses said they would respond if the situation worsens:
Manufacturers using Japan-imported parts: Seek new sources (73 percent). Among those who would proactively seek new suppliers, one reason given was the willingness of employees to boycott Japan-made goods (49 percent, multiple choice)
Exporters: Turn to buyers in China or the EU (59 percent and 40 percent respectively, multiple choice)
Importers: Honor current contracts, but delay new ones until relations improve (37 percent)
Retailers: Temporarily stop displaying Japan brands (24 percent) and delay new contracts (11 percent)
One-third of respondents employed at Japan-invested firms in China concede that the impact of recent events has had a "temporary but major impact," but over half maintain that their workforces remain focused and loyal. When asked if their company is likely to stop dealing in Japan-made goods, close their business or shed their Japan investors within the next year, the results were mixed: 45 percent voted "very unlikely," while "very likely" and "somewhat likely" both garnered 11 percent of votes.
The survey, "Current anti-Japan sentiment: How big a risk does it represent to your firm?" was conducted on Chief Executive China Online from Sept. 20 to Sept. 24, 2012. A total of 1,113 individual voters initially took part, but 482 who identified themselves as belonging to one of the following categories were allowed to complete the questionnaire:
Exporters to Japan: 31 percent
Manufacturers of finished goods containing a high percentage of Japan-made parts/materials: 24 percent
Resellers of goods made in Japan: 24 percent
Importers of Japan products: 12 percent
Japan-invested firms: 9 percent
At 83 percent, the majority of respondents classify themselves as managers, including almost one-third who are top management (CEO, GM) and one-fifth who are marketing/sales managers. Their companies are largely based in southern or eastern China (43 and 39 percent respectively). In terms of annual sales, two-thirds generate $10 million or more, with 27 percent of the respondents reporting corporate earnings of over $150 million.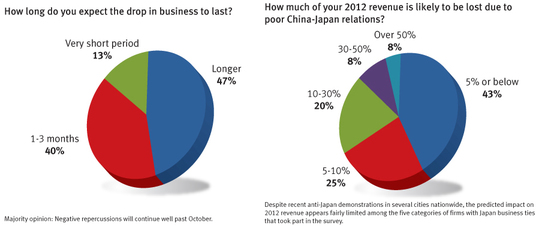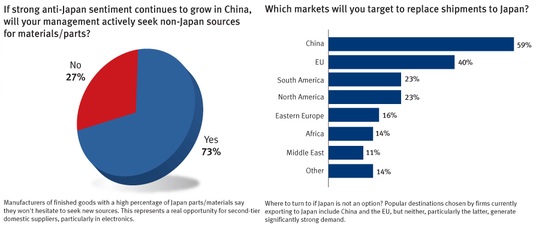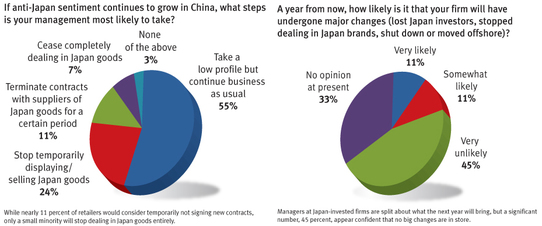 This article was originally published by Global Sources and can be found here. Global Sources is a leading business-to-business media company that facilitates trade between buyers worldwide and suppliers in China and Asia, via online, magazines, trade shows and research.