By Jean-Paul Diaz-Caneja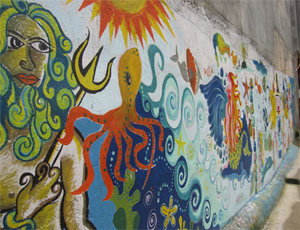 Oct. 17 – Hauz Khas Village is like a little island in the southern part of the Indian capital city. Offering a mix of modernity and tradition, this vibrant and wealthy neighborhood is filled with uncountable art galleries, bookstores, antique shops, modern bars and some sophisticated restaurants and is located just a few steps away from the slums and the noisy streets of Delhi.
The Village is nothing like we are used to seeing in India, and it is very easy to forget that we are still in the country. This particular atmosphere does not come from an organized effort to develop the area, but rather from the fact that many entrepreneurs have chosen to settle their little businesses in these colorful streets, most of them being related directly or indirectly to the world of arts.
There is a particular feeling when one walks the streets of Hauz Khas Village that I could liken best to the result of an efficient marriage between the content of Portobello Road Market in London, and the structure of a small Mediterranean town. Although the feeling is European, we are reminded that we are in the Indian subcontinent by the remains of Islamic structures built between the 13th Century and 16th Century that still lie at the heart of the Village, offering an interesting balance between history and avant-gardism.
The name Hauz Khas literally means "royal water tank" in Urdu, and comes from the enormous tank built by Allhauddin Khilji that still lies there, next to the Village and at the core of a spectacular park where it is not unusual to see peacocks and deer. Thanks to this combination of elements, Hauz Khas Village can offer something that is particularly appreciated when juxtaposed with the frantic pace of Delhi daily life: silence and a relaxing atmosphere.
Hauz Khas Village attracts a young crowd of creative people, foodies, travellers and tourists who flow through the local art galleries, shops and international restaurants. One could argue there is something of a "hippie" background to this neighborhood where people seem to enjoy simply relaxing and wasting time. Many of the local establishments are owned or managed by foreigners themselves who have fallen in love with the magic of the village. Examples include The Rose, a hotel with French management that showcases the works of different artists and offers a view of the peaceful park; or Bagels Café, owned by a successful young Dutch entrepreneur, Lalita de Goederen. Along with these, a series of refined Indian restaurants and different stores are gathered in the Village. The word we could use to describe the vast majority of establishments in Hauz Khas is: sophisticated.
You may not see the real India visiting Hauz Khas Village, but you will certainly see something new. Hauz Khas Village is a place where different worlds associate harmoniously; it is a world of its own, separated from the rest of the capital's noisy streets. It is a place where everything dwells in a creative setting, be it in the art galleries, in the artifact stores, or in the bars, restaurants and hotels with inventive concepts.
For more of the latest news and trends across emerging Asia, subscribe to our complimentary weekly news flyer or check out our new Facebook page at www.facebook.com/2point6billion.
Related Reading
Olaf Griese's Expat Transitions Series: