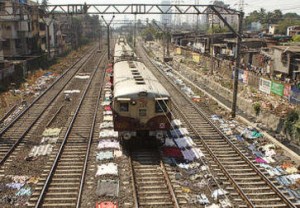 By Sonia Katyal
On its way to being a globally inter-connected economy, India must distinguish between necessary reform and unnecessary liberalization rhetoric.
Oct. 23 – In the two decades post 1991 when opening up became a golden word, India has tasted the fruits of a global economy. Its citizens, led by the middle class – which was hitherto neither here, nor there – seemed to have woken up to a dream of accomplishments and accompanying consumerist expectations. This was the era when mobile phones rapidly populated the aam aadmi's home, every middle class family could plan a foreign holiday, children of the not-so-rich studied abroad, and IT professionals mushroomed in every neighborhood waving their travel stamps as a symbol of a new-found international identity.
Politicians, true to their nature, have since tried to cash-in on this seeming prosperity wave that has hit millions of Indians. While it is Congress that led the initial reforms driven by an acute crisis, BJP, the other national contender, also tried few years back to carry people along in a sentiment surge coined "India Shining." The India that had not shone just yet, replied back with a stiff rebuttal that sent the netas packing to look for more appetizing slogans. Amidst all the noise, "voice of the common man" was stumbled upon as a plausibly handy plank to tout. And so jumped the political bandwagon on to this ship of the "common man's interests" – one that all parties seem to claim, but none actually owns, as suspected.
Somewhere in all this clutter of aspiring Indians, the left-out waiting to be counted, the super rich who were busy sewing up deals (not only of the business variety), the din of the politician claiming to clamor for the welfare of the have-nots – somewhere here, in the lexicon of the political circles and even the pink papers of India, the word reform became a synonym of liberalize. This linguistic trend that caught on slowly but surely, is in itself, a tragedy in the making.
The populace of India, the technocrats, the industrialists, the entrepreneurs and the media need to be reminded that "reform" does not necessarily mean "liberalize."
Our food grain rots in tons, and our farmers commit suicide. The solution admittedly lies in agricultural and land reforms – even if partially – and in an effective distribution mechanism that works. There is no magic key of "investment limit to be raised" that would solve problems of this nature and magnitude.
We don't have a cold chain infrastructure in India – a basic need for effective food and medicine distribution. Many businessmen have apparently gone bankrupt even if they tried to set-up cold chains for reasons as mundane as no power or a lack of roads. What stops the government from having developed a plan to facilitate cold-chains much the same way that software exports were encouraged? Why could the Reliances, and Tatas and Godrej's not be well incentivized to undertake this crucial and potentially lucrative infrastructure build-up? Our cold chains do not necessarily need to come from cold countries! We could have pushed the right buttons on this one agenda year back, without dropping the Walmart bomb onto an already fractured political arena.
The merits of a company like Walmart is a separate debate, and not an easy one for either side – but the root problems for India are mismanagement and underutilization of resources, minds and talent. Such afflictions in common language are called poor governance and regular doses of FDI announcements do not redeem this mother of all problems.
So, as we cheer forward to a globally connected India, let us not lose sense of what is right on one hand, what needs to be reformed on the other, and what needs to be liberalized. Opening up everything limitlessly is no panacea and not something that even outspoken capitalist economies do. The United States, that hankers India to open up, closes its own doors to counter trades when suitable and has for a long time artificially propped up its own farming and auto industries.
The very IMF which preached to India for decades to open up its banking sector is now praising India for the strength of its banking system and its relative immunity from the Global Financial Crisis. We have one of the best central banks, let us strengthen it further. Our roots are strong. There will always be clamor at our doors to open up as we are a big market that can offer growth to waning economies.
India was called a golden bird centuries back, and has been often invaded for its wealth. Open-up we must, but only with our best interests in mind. Reform, not just liberalize. India must choose a path most becoming for itself, and what is good for India in the long run will also be good for the rest of the world, which will gladly have us as a healthy, robust and growing economy rather than a completely unlocked chest with no treasures left.
This article was originally published by the Fair Observer on October 16, 2012.
The opinions expressed in this article are those of the author, and do not necessarily reflect the views of 2point6billion.com or Asia Briefing Ltd.
Related Reading
India Poised to Compete for China FDI
Indian Autos in Demand as China Snaps Up Luxury Marques