By Daniel Fleishman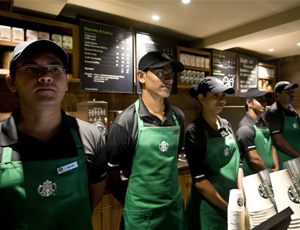 Oct. 31 – On October 19, India's first Starbucks coffeehouse opened in downtown Mumbai, making the world's second most-populous state the 61st country to play host to the U.S.-based coffee giant. Within days of the first opening, two more branches popped up, one of them inside the world-famous Taj Mahal Palace Hotel.
While certainly not the first foreign-owned coffee outlet to set up shop in India, Starbucks' entry into the market signals a landmark demographic, cultural, and socioeconomic shift in Indian society.
India, which has been developing rapidly since the initiation of a string of IMF-encouraged market reforms in 1991, now boasts a 250 million-strong middle class with increasingly significant purchasing capabilities. However, while the hour-long cues at the newly opened coffee outlets are certainly indicators of wage growth, they also point to a newfound brand-lust.
It is not that Starbucks is necessarily of higher quality or even much more expensive than already-established international chains such as the UK's Costa Coffee and the U.S.-based Coffee Bean & Tea Leaf. Their fatal flaw is simply that they are not Starbucks; the same way Wendy's is not McDonald's.
"We've seen [Starbucks] in films and on TV," said Ritika Nurthy, a 23-year-old software engineer waiting in line to get her first-ever cup of Starbucks coffee. She found out about Starbucks after watching the 2006 film "The Devil Wears Prada," in which the classy Miranda Priestly (played by Meryl Streep) enjoys a cup of Starbucks coffee. "You get curious and wonder 'what is that?'"
Thus, what makes Starbucks' expansion so significant is that India's middle class (which has been sizable for years, but known for its financial frugality), is now increasingly willing to pay a premium for premium international brands. In comparison, China's middle class is roughly the same size as India's, but has a reputation for frivolous spending; Starbucks opened its first Chinese branch in 1999 and now has over 600 outlets, with plans to increase that number to 1,500 by 2015.
This shift in consumption is supported by Prime Minister Manmohan Singh's Indian National Congress party, which holds the plurality in India's coalition government. Singh, who served as finance minister during India's first round of economic reforms in 1991, has overseen the further elimination of rules restricting the operations of foreign-owned enterprises on Indian soil.
As of this September, for instance, foreign-owned "single-brand retailers" (such as IKEA), no longer have to enter into joint ventures with Indian companies in order to open outlets in India, and "multi-brand retailers" (such as Walmart) have recently been allowed to enter the market with a 51 percent share of a joint venture with a local partner.
Starbucks signed a US$80 million joint venture agreement with the Indian multinational conglomerate Tata Group before these measures were passed in Parliament. However, these recent measures certainly open the door for further foreign investment into India that can take advantage of and further promote the middle class' growing brand-consciousness and taste for international quality goods.
Related Reading

An Introduction to Doing Business in India
In this guide, we introduce the basics of setting up and running a company in India and some of the key issues investors should pay attention to. This issue is currently available as a complimentary download on the Asia Briefing Bookstore.
Starbucks, Café Coffee Day Favorites to Conquer India's Emerging Coffee Market
Starbucks Expanding in China, to Triple in Size by 2015
What Are My Options for Investment into India?
Reforms in India: Government Allows FDI in Multi Brand Retail