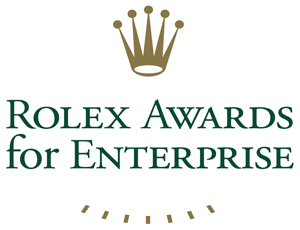 Nov. 23 – Five pioneering individuals who are winners of this year's Rolex Awards for Enterprise will be honoured at a prestigious event to be held in New Delhi on 27 November 2012. This marks the first time that luxury watchmaker Rolex has held the ceremony for the international philanthropic programme in India.
The Rolex Awards for Enterprise were created to foster a spirit of enterprise and advance human knowledge and well-being. They support pioneering work in five areas:
• Science and health
• Applied technology
• Exploration and discovery
• The environment
• Cultural heritage
Winners are innovators who typically work outside the mainstream and often have limited access to traditional funding. Rather than reward past achievements, the Rolex Awards provide financial assistance and recognition to individuals embarking on new ventures or carrying out ongoing projects.
Vijay Amritraj, legendary Indian tennis champion, TV presenter, actor, and 2010 Rolex Awards Jury member, stated that "this prestigious event and award ceremony adds so much to India, and fosters greater insight into our potential as an emerging hub of proactive social change."
Eminent members of Rolex's global network will travel to India to recognize the work of these inspiring individuals: Sergei Bereznuk (Russian Federation), Barbara Block (United States), Erika Cuéllar (Bolivia), Mark Kendall (Australia) and Aggrey Otieno (Kenya) who have won Rolex Awards for projects ranging from marine research, revolutionary vaccine technology and tiger conservation.
Those from overseas will join ambassadors, members of the Indian government and ministries, industrialists, leaders of the corporate community and the film and cultural fraternity to celebrate the Laureates and the spirit of enterprise that has driven their winning projects that underpins India's success in the world today.
Rebecca Irvin, head of philanthropy at Rolex, said that "the Rolex brand has strong ties with India, as we have been operating in the country for nearly a half century. Rolex is coming to New Delhi to pay tribute to the spirit of enterprise driving this dynamic economy."