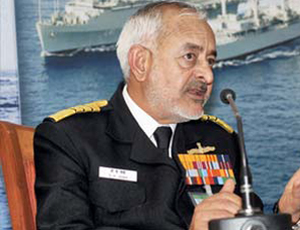 Dec. 6 – In a worrying development this week, China and India have become embroiled in a dispute regarding energy exploration in the South China Sea (SCS).
India currently operates a joint venture in an offshore energy bloc with Vietnam, and has affirmed this week that it is willing to militarily counter any aggression in the disputed SCS to guard its economic interests. China, whose territorial claims include the area in which India is operating, has negatively reacted to India's posturing, and reiterated that unilateral energy exploration within its sovereign waters is unacceptable.
This flare-up presents a negative contrast to the recent agreement between China and India to maintain peace and tranquility along their shared border. During talks this week, led by China's State Councillor Dai Bingguo and India's National Security Advisor Shiv Shankar Menon, China and India successfully reached a common understanding on their border issues that will allow them to create a framework in which to draw a "fair, reasonable and mutually acceptable" boundary.
"Overall, when we looked at our relationship and when we looked at the boundary, we have actually made considerable progress and we handled the relationship well. The border is peaceful and we made progress towards settlement," Menon stated.
He later acknowledged that "there is still work to be done. Both sides recognize that."
These recent border gains, however, have been unable to outshine India and China's deteriorating relations within the South China Sea. During a press conference in New Delhi, India's Chief Admiral DK Joshi stated that he did not expect the Indian navy to be in the SCS very frequently, yet nonetheless maintained that the navy would be deployed to protect the country's economic interests if deemed necessary.
India's state-run Oil and Natural Gas Corporation (ONGC) is currently exploring oil and gas deposits off the coast of Vietnam. ONGC Videsh, the overseas arm of ONGC, previously accepted a lucrative proposal by Vietnam to conduct exploratory efforts in the Nam Con Son basin. This was immediately met with strong criticism from China, who claimed that Indian operations in the region were a violation of China's sovereignty. Nonetheless, India has continued with its operations in the South China Sea, and has vowed to protect its economic and energy interests in the region.
"When the requirement is there, for example, in situations where our country's interests are involved, for example ONGC Videsh, we will be required to go there and we are prepared for that," said Joshi.
"Now, are we preparing for it? Are we having exercises of that nature?" he further added. "The short answer is yes."
China reacted negatively to Joshi's statements, warning against any unilateral energy exploration and development activities in waters claimed by China.
"China opposes any unilateral oil and gas exploration activities in disputed areas in the South China Sea and hopes relevant countries respect China's sovereignty and national interests, as well as the efforts of countries within the region to resolve disputes through bilateral negotiations," said Hong Lei, spokesman of China's Ministry of Foreign Affairs.
Previously, India has largely chosen to be an observer of the political environment within the South China Sea. It's exploration of Vietnamese energy fields, however, has now signified that India is willing to play a more prominent role in the region.
For more of the latest news and trends across emerging Asia, subscribe to our complimentary weekly news flyer or check out our new Facebook page at www.facebook.com/2point6billion.
Related Reading
India-China Forge Economic Partnership at Second Strategic Economic Dialogue
China's New Passport Dispute – Diplomatic Retaliations
As Chinese Influence Grows, India Intensifies Defense Ties With The Maldives
A Sino-Indian Conflict of Himalayan Proportions?