Mar. 14 – As Internet use in Asia continues to develop thanks to Asia's seemingly infinitely growing Internet penetration rates and a consistently growing number of web users, methods to go online have evolved from the usual desktop experience into something much more, literally, mobile.
Because of Asia's broadband infrastructure, accessing the Internet has proven to be somewhat of a chore for people located in more remote or underdeveloped Asian cities and countries. However, thanks to the advent of mobile smartphones and their corresponding popularity and high usage throughout Asia, mobile Internet has emerged as increasingly accessible throughout the region.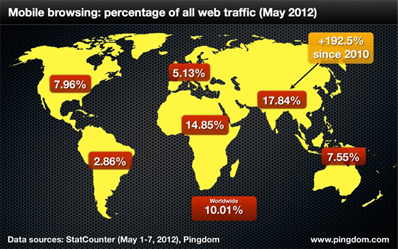 There are currently 3,110, 235,171 total mobile phone subscriptions in Asia. China and India account for most of them – the two countries alone added a total of 60,000,000 new mobile phone subscriptions between June and September in 2012 (note: 'mobile subscriptions' refer to the number of SIM cards being used in each country, not the total number of people that use a mobile device).
As of now, there are actually a greater number of combined mobile subscriptions in China and India than there are people in the United States (U.S.). India and China combine for a net gain of about 10 million new mobile subscribers per month, and account for about 32 percent and 28 percent, respectively, of Asia's overall market share.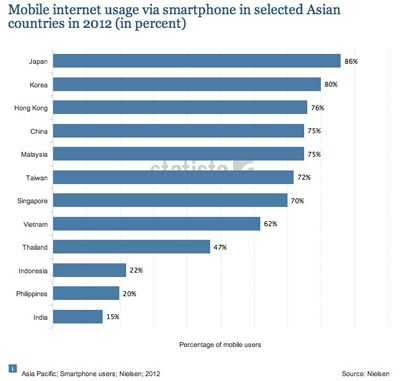 By the end of 2012, there were a total of 794,000,000 mobile Internet users in Asia, and about 18 percent of all web traffic in Asia came from a mobile device. About a quarter of phones used throughout Asia are mobile smartphones that are capable of accessing the web through mobile Internet browsers (there are roughly 844,000,000 smartphones in Asia).