India's electorate may choose to break its historical tendency to vote according to religious and caste affiliations as the BJP, AAP and Third Front seek broader appeal with messages of good governance, economic development and anti-corruption.
By Shawn Greene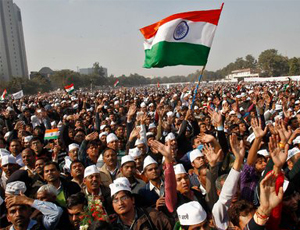 DELHI – India's Election Commission has announced the dates for this year's highly anticipated general election, which will be held in nine phases in April and May.
Polling for the 16th Lok Sabha (lower house of Parliament) will begin April 7 and conclude May 12. Votes will be counted on May 16, and the new Parliament must be constituted by May 31.
With more than 800 million eligible voters –100 million more than in the 2009 general election – India's upcoming election will be the single-largest in world history (more Indians are currently registered to vote than the combined population of Europe).
Voters in the country will cast their ballots on 1.7 million electronic voting machines at 930,000 polling stations nationwide, now featuring a new "none of the above" option for voters not wanting to cast their ballot for any of the listed candidates.
Administrative costs for the election will exceed US$645 million, and more than 11 million government workers are expected to play a role in the massive administrative undertaking.