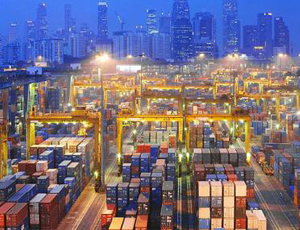 Singapore is the best shipping hub in the world, with Hong Kong and Shanghai also in the top 10, according to a new report on international shipping centers released last week.
The 2014 Xinhua-Baltic Exchange International Shipping Center Development Index Report, which is the first report of its kind, was a joint project by the Baltic Exchange and the China Finance Corporation.Asian ports took six places in the top 10, which comprised of Singapore, London, Hong Kong, Rotterdam, Hamburg, Dubai, Shanghai, Tokyo, New York and Busan.
The index assessed 46 shipping hubs around the world against three fixed criteria, namely maritime services such as insurance, engineering and brokerage (50 percent), overall environment (30 percent) and port facilities (20 percent).
"An outstanding international shipping center requires more than a just big port. Today, it requires various services that help smooth business and operations, such as insurance, compliance and management, which may be more important than just infrastructure," said Marcus Lee, the Baltic Exchange's chief representative in China.
In terms of the total number of twenty-foot equivalent units (TEUs) transported, Shanghai, Singapore and Hong Kong are the three busiest container ports in the world, with a throughput of 33.6 million, 32.6 million and 22.4 million TEUs respectively in 2013. Shanghai surpassed the container traffic of Singapore in 2010, ending the city-state's five year reign at the top. The Port of Hong Kong was previously the world's busiest container port between 1999 and 2004.