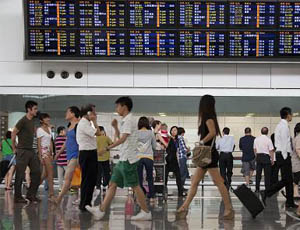 Home to the burgeoning Chinese and Indian markets, the Asia-Pacific region now dominates global business travel spending, according to the latest findings by the Global Business Travel Association.
Global business travel is largely concentrated in three regions – Asia-Pacific, North America and Western Europe. In total, the three regions accounted for 89 percent of the world's business spending last year. In 2013, business travel spending in Asia-Pacific accounted for 38 percent of the world's total, more than the 21 percent for North America and 24 percent for Western Europe, the report found.
Business travel expenditure in Asia-Pacific more than doubled from 2000 to USD$392 billion last year, after growing 7.5 percent annually for more than a decade. The report expects spending to continue growing at a 10.2 percent annual pace over the next five years.
As the global economy continues on its recovery from the 2008 financial crisis, the gap between emerging markets and developed markets is narrowing. Although global travel spending grew at a stable rate of 6.9 percent from last year, emerging markets were largely driving the growth.
Travel spending in China grew at an average of 16 percent per year since 2000 to reach US$224 billion in 2013, compared to the 1.1 percent annual growth rate of the U.S.
China's growth has been powered by infrastructure investments, export growth and rising nominal wages, the report finds. By 2016, China, currently the second largest business travel market, is expected to overtake the incumbent leader, U.S., as its importance as a global trade and financial center continues to rise.