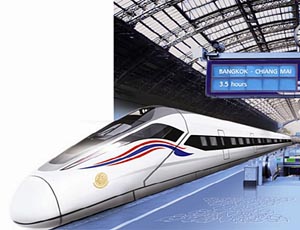 Thailand's National Council for Peace and Order (NCPO) has approved a US$23 billion project to connect two high speed railways with China's rail network by 2021.
Plans for the Thai railways show one rail will connect the town of Nong Khai, just south of Laos's capital Vientiane, with Map Ta Phut, located to the southeast of Bangkok. This section of rail is projected to cost 392.5 billion baht (US$12.2 billion) and will run 737 kilometers. Chiang Khong, positioned along Thailand's northern border, will be connected to Ban Phachi, in the central Ayutthaya regions slightly north of Bangkok, along a track 655 kilometers in length at an expected construction cost of 348.8 billion baht (US$10.85 billion).
Under the administration of Thailand's previous prime minister, Yingluck Shinawatra, China and Thailand had reached a bilateral agreement wherein the high-speed rail projects would be partially paid for in rice, as well as through loan funding. Being part of a larger infrastructure development scheme, the project was thrown into limbo last March when a loan bill to fund the scheme was deemed unconstitutional.
RELATED: China to Build High Speed Railway to Southeast Asia
Further complications arose when Chan-ocha's junta took over this past May, suspending more than US$62 billion worth of infrastructure projects approved by Shinawatra's administration, until screened by the NCPO. Previous reports alleged the junta had abandoned the high-speed rail project.
The railway lines will directly link to Kunming, in China's southern Yunnan province. Constructing these railways in Thailand is part of China's scheme to build a 3,000km (1,860m) high-speed track stretching from Kunming to Singapore. This railway will pass through Laos, Thailand and Malaysia.
If completed, it is projected to boost the GDP of China, as well as those of the other countries involved, by US$375 billion.
Though expected to increase trade and income for all participating countries, some have described the project as "Chinese high-speed railway diplomacy," an act to extend China's power and influence through the use of its high-speed rail technology and expertise.